Learning Environment
Hands-on, theme-based instruction is based on the Constructivist Model of learning
Integrated curriculum emphasizes academic, physical, emotional & artistic growth to develop the whole child.
Enrichment program includes field trips, science, P.E., music, gardening, visual & performing art, cooking.
Academic excellence – aligned with State and District Standards to include the core curriculum in literacy, social science, math and science.
Experienced, credentialed teachers
Low student/adult ratio
Half-day or full-day kindergarten
"I've been at Indigo since I was in Kindergarten and I've never felt unsafe and the teachers are always supportive and giving new ideas."
Isabelle, 7th Grade
Positive Discipline
An important component of the Indigo program is the Positive Discipline approach, as presented by Jane Nelsen. Positive Discipline is "about understanding children and the beliefs that motivate their misbehavior. It's about treating both teachers and children with dignity and respect and having faith in their abilities". Problems and mistakes are seen as a catalyst for learning life skills.
The Five Criteria for Positive Discipline
Helps children feel and experience a sense of belonging, significance and connection in their community.
Models mutually respectful relationships by being, kind and firm at the same time.
Teaches valuable social and life skills that are effective long term.
Looks at the belief behind the behavior to provide a more in depth understanding of what the child is thinking, feeling and deciding about themselves, their life and their world.
It encourages children to discover their personal capabilities through problem solving, communication, negotiation and self-awareness.
Positive Discipline is modeled and practiced throughout our community by the teachers, parents, and students.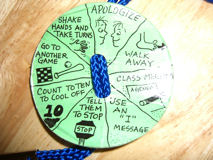 Teachers and parents attend Positive Discipline training so that they can model, support and encourage others while developing mutually respectful relationships in our community. Students learn Positive Discipline skills through many aspects of the curriculum and through their interactions with teachers and adults. All stakeholders and encouraged to grow at their own developmental level and work toward becoming their personal best.
Opportunities provided to our students regularly…
Participating in class meetings
Working together as a class to create class agreements and accountability rules
Sharing ideas and feelings with each other
Focusing on solutions when solving problems
Practice in skills such as effective listening, social thinking, communication, respecting differences, giving compliments and appreciations, and critical thinking skills.
Constructivist Learning
Learning at Indigo is based on Constructivist Learning theory, which states that people are active creators of their own understanding and knowledge of the world. When students have interesting experiences, engage in problem-solving, ask questions, explore, experiment, reflect, assess, and discuss, they not only learn the material more deeply and remember it better, but they gain important life skills. Perhaps the most important of these skills is that they learn how to learn.
At Indigo, lessons incorporate fine arts and technology, opportunities for collaborative learning, and in-depth, extended projects, which take into consideration developmental levels and interests. Teachers encourage students to use open-ended questioning and to develop and employ learning strategies so that they become "expert learners.".
What are the benefits of constructivism?
Children learn more and enjoy learning more when they are actively involved, rather than passive listeners.
Education works best when it concentrates on thinking and understanding, rather than on rote memorization.
Constructivist learning is transferable. In constructivist classrooms, students create organizing principles that they can take with them to other learning settings.
Constructivist learning gives students ownership of what they learn.
By grounding learning activities in an authentic, real-world context, constructivist learning stimulates and engages students. Students in constructivist classrooms learn to question things and to apply their natural curiosity to the world.
Constructivist learning promotes social and communication skills by creating a classroom environment that emphasizes collaboration and exchange of ideas.
Developmental Approach
Just as each child cuts a first tooth or takes a first step according to a personal inner clock, so each child breaks the reading code, skips, or associates an abstract symbol with a particular concept at the right time for that child. In a class of twenty-five, there are twenty-five levels of competency, readiness, interest and emotional make-up.
In this context, a child's development can best be maximized by providing an experiential hands-on approach, promoting an awareness of self and one's relation to others, and providing an opportunity to learn at their own pace within an integrated curriculum. Our program is based on these premises.
Research shows that a basic education must address the needs of the whole child; social, physical, emotional and academic areas of growth are inter-related and are of equal value. When a child's whole being is honored and respected, the innate desire to learn is developed and enhanced.
As part of this philosophy, kindergarten students have the option of a full day or half day.
Social / Emotional Learning
Students' social and emotional development is an important aspect of the Indigo philosophy. As a community we strive to use a common vocabulary to provide our students with a safe and supportive atmosphere in which to learn not only academics but also interpersonal, problem-solving, and conflict resolution skills.
Strategies used at Indigo to support childrens' social and emotional growth include:
Class Meetings: Class meetings are held at each grade level. The goals of the meetings are to provide students with a chance to recognize things that are going well and to problem-solve areas of difficulty, such as issues at recess or during class time, or concerns about friendships.
Communication Lab: A weekly lab is held at each grade level to promote effective communications skills. Topics range from eye contact and body posture to the effects of gossip, depending on grade level.
Morning Meetings: Students meet daily to foster community. Morning meetings include schedule, news and announcements, sharing and community building activities to further develop cooperation and collaboration.
Choice wheel: The choice wheel is used in classes, during class meetings, and on the playground to help students identify choices they can make to deal with situations.
Project Cornerstone: Project Cornerstone is a community agency with a mission to train and mobilize adults throughout Santa Clara County to develop healthy, caring, and responsible children and youth. Project Cornerstone works directly with students, staff, and parents at Indigo on the following initiatives:
ABC (Asset Building Champions) – training parents to facilitate monthly lessons in grades K-5 that focus on bullying prevention and promoting positive peer interactions.
"Expect Respect" student workshops – middle school students attend workshops and prepare classroom presentations to share important lessons they learned about creating a positive and respectful environment at our school.
Staff and parent training on bullying prevention and asset development.